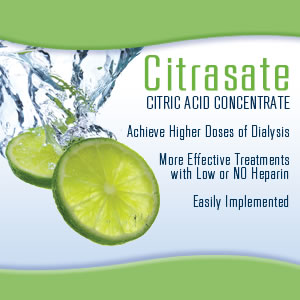 Citrasate®
Citric Acid Concentrate
Dear Valued Customer:
I'm writing to let you know formally that Dial Medical Supply will no longer be distributing Citrasate. As you may be aware, Dial Medical was the first dialysis company in the United States to recognize the superior benefits of this product for your dialysis patients. We went on to help train dialysis professionals across the country on the correct and advanced uses of Citrasate. Finally we believe we provided strong customer service given that this is a very difficult product to ship in small quantities, as sometimes needed.
Dial Medical thanks you for your loyal business and for your continued support. We are proud of our representation of Citrasate to date and will be sorry not to be able to offer you all of the product codes you require for this fantastic product in the future.
Dial Medical Supply